Teens: Win a Free Trip to D.C.!
Youth Tour 2020: June 20-25, 2020
Application deadline: February 3,2020
Finalist interviews: March 9, 2020
2019 Winner: Lydia Steinhaus
Local teenagers can experience firsthand the pride of being an American by winning a free trip to Washington, D.C. June 20-25, 2020. Federated Rural Electric, Jackson, will select the winner of this trip through its annual Youth Tour Contest.
High school freshmen, sophomores, juniors or seniors attending a high school in Federated's service area can enter. Pick up an application from the school counselor or contact Federated (info@federatedrea.coop or call 1-800-321-3520). The student writes a 300-word essay on an energy-related topic, which is due with the application. The first 15 students to enter receive $20 gift certificates to Amazon.com.
Five finalists are selected for short interviews. The combined scores from the essay, interview and application determine the trip winner, along with second and third place who receive $150 and $100, respectively.
The winner will travel with 40 other Minnesota teens sponsored by other rural electric co-ops. Federated's delegate is one of 1,500 delegates nationally. Here's a few tour highlights from last year:
Tour the monuments: Washington Monument, Lincoln Memorial, Jefferson Memorial, Franklin Delano Roosevelt Memorial, Vietnam Veterans Memorial, Korean Veterans Memorial, Arlington Cemetery, etc…Tour historic sights: Library of Congress, Smithsonian Museums, Holocaust Memorial Museum, FBI Headquarters Tour, Mount Vernon, etc... Attend special events: Moonlight cruise & dance on the Potomac River, U.S. Army Precision Drill Team, all-states dinner & dance, etc…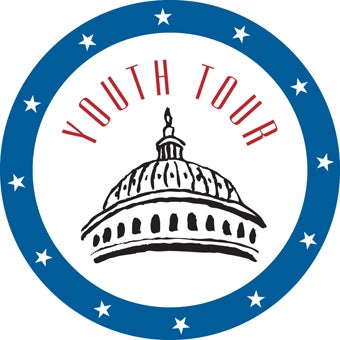 Click here for 2020 application. It can be filled out electronically or printed out and filled out by hand.
Click here for applicant procedure.
Interact with: 1,500 teenagers from across the U.S. sponsored by rural electric co-ops, meet with your Members of Congress and make new friends.
Go places: Interview to be the Minnesota representative on the Youth Leadership Council. If selected, you will travel to D.C. again for the 2019 Youth Tour, to the 2020 National Rural Electric Cooperative Association's Convention and a leadership training seminar in Washington, D.C.